Welcome
Welcome to the Sayonara Piano Sonata Wiki, a wiki dedicated to the documentation of all things from the Sayonara Piano Sonata light novels and manga. We are a developing wiki and any/all help around here would be great!
If you have any questions about editing around here or the Sayonara Piano Sonata universe, don't hesitate to ask on of our admins! They're always happy to help!  Admins are:
               Dim1                         Insanemaster

               KDTV                         MyProjectAlicization

               Ethrundr

Happy editing!
News!
Chapter Releases
Translation of the first encore story has begun! It's about Naomi and Mafuyu (also a bit of Chiaki, Kyouko and Chisato) when they are like 24. Mafuyu is soooooooooooo cute! *\(◕ ‿‿ ◕)/* (stolen emote). Get it out here: http://cetranslation.blogspot.sg/p/projects.html
MyProjectAlicization (talk) 12:28, August 8, 2013 (UTC)
Sayonara Piano Sonata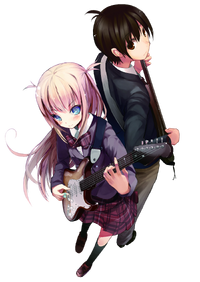 Sayonara Piano Sonata is a Light Novel Series written by Hikaru Sugii, and published by Dengeki Bunko. The series was published from November 2007 to October 2009, and consists of four volumes containing the main story and one bonus volume.
The story revolves around a sixteen years old boy called Nao, which is son of a music critic and has a hobby of fixing machines. On a visit to a junkyard he meets a girl which is supposed to be a piano prodigy, to their surprise, she transfers to his school and enters his life. On top of it, he has a strange senpai and his childhood friend who want him to join their band.
Community content is available under
CC-BY-SA
unless otherwise noted.